A 360° photo contains the full environment as seen from a single point: 360° horizontally and vertically. They are also called VR photos, virtual reality photos, panorama photos or panoramic photos.
Creating 360° photos used to be time-consuming involving fish eye lenses, tripods and stitching, but can now be done much easier with alternative equipment like this:
With Bixorama you can convert, modify, generate, preview and publish your 360° photos.
Converting your your 360° photo is as easy as choosing FILE > Import 360° photo followed by FILE > Export 360° photo. Bixorama supports 11 formats:
1) Equirectangular
Most 360° cameras produce JPG files in this format. This projection is also called an angular map: the horizontal position is the longitude and the vertical the latitude.

Bixorama can import and export equirectangular photos in the JPG, PNG, BMP, TIFF and GIF file formats. With the right codecs installed, Bixorama can also load PSD, EXR, HDR, RAW and many more formats. Learn more
2) DirectX .DDS
DDS is the DirectX texture format. It is used in 3D apps like BluffTitler for reflectionmapping and skyboxes. DSS stores the 360° photo as 6 squares, representing the 6 faces of the cube.
3) QuickTime VR .MOV
Apple's QuickTime stores the 360° photo as 6 squares, optionally subdivided in smaller squares.

QTVR used to be the most popular 360° format on the internet. Nowadays most sites use an HTML5 player. Use Bixorama to convert your old QTVR files.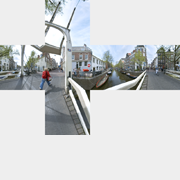 4) Horizontal cross
The 6 faces of the cube are laid out as a horizontal cross.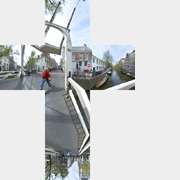 5) Vertical cross
The cube faces are laid out as a vertical cross. Notice that the back face is rendered upside down.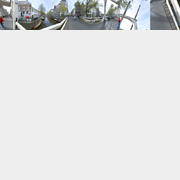 6) Strip
The face order is: front, right, back, left, top, bottom.
7) Strip XYZ
The face order is: right, left, top, bottom, front, back. This layout is used by the NVIDIA DDS Photoshop plugin
8) Single files
This mode imports and exports the 360° photo as 6 single files, representing the 6 faces of the cube.
9) Spheremap
This projection is used in 3D apps for reflectionmapping.
10) Mirror ball
This is the only featured format that isn't a true 360° photo because it contains only half the world. When you import this format, the front is mirrored into the back.
11) Heart
This cute looking projection is a tribute to the French mathematician Oronce Finé who wasn't afraid to work out crazy ideas.
Batch processing
Bixorama can automatically convert multiple 360° photos to the same format, or to the same resolution, by choosing FILE > Batch processing.... Unmark the Reset all modifications when loading a new 360° photo checkbox in the options dialog to apply the modifications.