Lots of templates
The installer comes with hundreds of ready to use templates.

Free intro videos can be downloaded from the community. Buy professional intros from BixPack, the BluffTitler template store.
Learn more
Powerful render engine
BluffTitler is powered by its own custom 3D render engine, optimized for rendering text. It turns font glyphs into 3D models with bevels, strokes and hundreds of other effects.

Ligatures, kerning, emoji, swash tails, diacritical marks and variants are supported.
Learn more
Super fast
BluffTitler uses 3D game technology to render your animations in realtime. Exporting as video is super fast.
Learn more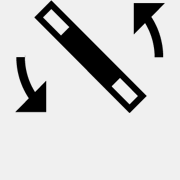 Magically easy
Complex 3D rendering techniques like reflection mapping , cube mapping and displacement mapping are offered as easy to use effects.
Learn more
Many export options
Export your title as a video file (MP4, AVI) or as numbered frames (JPG, PNG) in any resolution, frame rate, compression and with or without alpha channel.
Learn more
I find most of the 3D programs require a lot of effort, so BluffTitler is much appreciated for its simplicity of operation
Mr. Powell, UK
Downloaded the demo and boy was I surprised. Didn't expect much and got a wonderful shock. This is great!
Mr. Love, USA
Thank you for this piece of software guys, absof***inglutely brilliant!
Mr. Matthews, USA
The best support includes free updates. This incredible software is my all time favorite. Thanks to your devotion to strive for the best in all you do.
GreenfishPete commenting on YouTube
Blufftitler is an ocean of ideas. Of text animation and effects. A complete 3D text world. Once you enter into it you will get what you want. Long live Blufftitler.
Daniel Sridevi commenting on YouTube
Where in the world can you find a company and it's CEO with such a user friendly software...
Filip in the community
This is fantastic software - so much better than After Effects, I can actually do stuff with this bad boy! You girls and guys are Brill...
Mr. Walker, USA
BluffTitler never fails to amaze me how easily I am able to make simply stunning videos and FX that would take extensively more labor intensive modeling, mapping and lighting to make something similar in either 3DS MAX, or Blender.
Mr. Loveria, USA
The more I am using this program the more I am liking it. Fantastic.
IBMedia, Cyprus
I have been using your titler for a LONG time and although I have other programs, I still think yours is the best.
Mr. Charlton, USA
Awesome! Bought it for a particular title I had in mind but haven't stopped using it since. Everyone should be made aware of this program!
Mr. Kahuna, Australia
I am truly speechless! This program is so easy to use, so amazing, so many features, and the most unbelievable part is the price!
Mr. Brown, USA
I have almost every titling program to date I can think of and your program is WONDERFUL in what it does. It is stunning in its simplicity and design. It has been a LONG time since I was this excited about a new program!
Mr. Wills, USA