Dani | a year ago | 8 comments | 8 likes | 424 views
Franco Aversa, persiana, elvis66 and 5 others like this!
This is just a test show.....but as said by Alex ( Komies) yes if BT could get this amazing shattered ,explosion text effects.. a dream project said by Michiel...yes this will be much hard work,time,money in research..I am also waiting for this effects.....
We will see..soon definitely we will get this...thank you Michiel and team ...specially Alex..for inspiring article...
Nice, Dani

Thanks for the support and great use of the floating triangles and timely fade to text.
www.outerspace-software.com...

komies, a year ago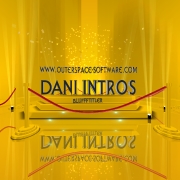 About Dani
Daniel lives in Hyderabad city in India, He loves to work with Blufftitler , For to him Every day begins with Blufftitler , He called himself a mad lover of Blufftitler.
Thank you for watching my shows and your great support.
Lots of Love from
Dani,
Hyderabad,
India.

Contact Dani by using the comment form on this page or at sriblessydaniel@gmail.com, facebook.com/dani.daniel.94064 or youtube.com/user/sriblessydaniel