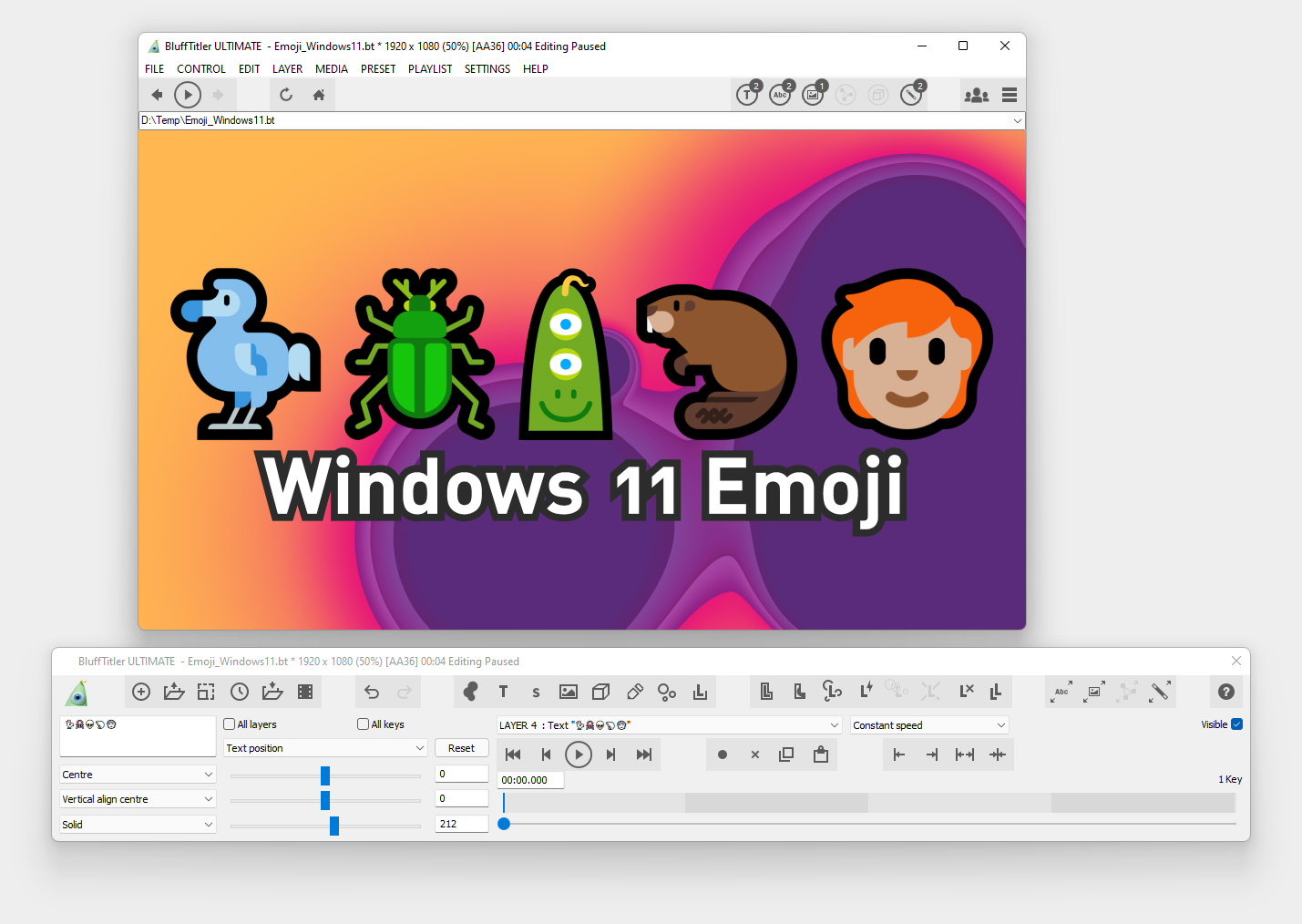 michiel | a year ago | 7 comments | 10 likes | 985 views
vincent, Ilja, SparkyVegas and 7 others like this!
BluffTitler looks great and runs super fast in Windows 11!

Only thing that had to be adjusted is support for the new emoji:
blog.emojipedia.org...

On this screenshot you can see Bix's new friends: meet the dodo, the beetle, the beaver and the homo sapiens with neutral gender, red hair and medium light skin tone!

Version 15.5.0.2 with full support for the new Windows 11 emoji is now available for download:
outerspace-software.com...

In Windows 11, the alien is grey. Luckily, BluffTitler allows you to replace this emoji by your favourite alien. Right click on the emoji in the MEDIA > CHANGE TEXT... dialog and choose SET CUSTOM PICTURE...

michiel, a year ago
Merci Michiel pour cette nouvelle version BT.

J'ai installé WindowsPCHealthCheckSetup.msi pour m'assurer que mon pc
soit compatible avec windows 11, hélas les processeurs Intel I3 sont exclus.
Heureusement je pourrai tout de même profiter de BT 15.5.0.2

PAT67, a year ago
Awesome !!!!Michiel!
liuyongcai, a year ago
Merci Michiel !

Alex-Raymond T., a year ago
Pat67

Windows 11 peut être installé sur tout PC même s'il ne répond pas aux exigences évoquées par Microsoft au début de la promotion du système. Je l'ai installé sur deux PCs supposés incompatibles sans aucun souci.

Windows 11 can be installed on any PC even if it doesn't complies with contraints evocated by Microsoft at the beginning of the promotion of this system. I've installed it on 2 PCs supposed uncompatible without any trouble.
Jeep35, a year ago
Can you elaborate what was not compatible please? I did the PC health check on my laptop and got the message my i7 processor was not supported

Pioneer, a year ago
Merci Jeep je vais tenter la mise à jour

PAT67, a year ago
Comment to this article
More by michiel

About michiel
Michiel den Outer is the founder and lead coder of Outerspace Software. He lives in Rotterdam, the Netherlands.

If he isn't busy improving BluffTitler, he is playing the piano or rides the Dutch dikes on his bikes.

Contact michiel by using the comment form on this page or at info@outerspace-software.com