IntroChamp | 8 years ago | 5 comments | 9 likes | 3,023 views
BillyJack, LostBoyz, Ulli and 6 others like this!
Playing around with creating floating text. The challenge was to make the text float while maintaining legibility.
Cool concept

BillyJack, 8 years ago
Thanks Billy! :)

Long Live Bluff!!!

IntroChamp, 8 years ago
Great to see how you are exploiting the flexibility property!

We have done some experimenting with spring models where you connect all the characters with springs, compute their masses, centres of gravity, set the spring coefficients, damping, gravity, connection schemes and other complex physics variables. This creates interesting effects, but nothing as useful as the flexibility prop is capable of as this show is wonderfully demonstrating.

Long live fake physics!
www.outerspace-software.com...

michiel, 8 years ago
Thank you Michiel!

In my opinion "fake physics" is one of the things that make Bluff smart and special. I run out patience with some other programs, waiting for render previews and such.

Bluff is a breath of fresh air! :) ~Joel

IntroChamp, 8 years ago
Comment to this article
More by IntroChamp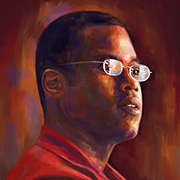 About IntroChamp
Joel Cooper is the founder and CEO of introChamp Inc. Many know him as the "Intro Champ".

His video template website makes it TOTALLY EASY for you to create AFFORDABLE, visually dynamic VIDEO INTROS in Minutes.

Contact IntroChamp by using the comment form on this page or at templates.introchamp.com