IntroChamp | 9 years ago | 3 comments | 1 like | 1,694 views
lesdodds likes this!
Michiel, it would be great to be able to use multiple fonts in one string of text... and further... multiple colors, textures and fx per character.

I realize that the last part is asking for a bit much, but anything you can do for us would be appreciated.

LONG LIVE BLUFF!

Yes, we would love to implement this!

Note that for bitmap fonts this is already possible. With Alphabix you can create your own font in which every character can have its own font. It's even possible to replace a character by a picture:
www.outerspace-software.com...

michiel, 9 years ago
In BluffTitler bitmap fonts are fully transparent with normal vector fonts (like TTF).

Choose MEDIA > CHANGE FONT (or press F6) and press the SELECT BITMAP FONT button. The installer comes with 1 example bitmap font.

michiel, 9 years ago
Michiel, Alphabix is definitely an interesting and fun option.

Although from a production standpoint, making decisions about fonts and mixing different fonts (and font colors) on the fly within Bluff would be optimal.

Thank you again Michiel :)

IntroChamp, 9 years ago
Comment to this article
More by IntroChamp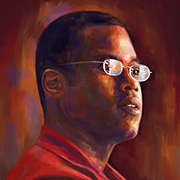 About IntroChamp
Joel Cooper is the founder and CEO of introChamp Inc. Many know him as the "Intro Champ".

His video template website makes it TOTALLY EASY for you to create AFFORDABLE, visually dynamic VIDEO INTROS in Minutes.

Contact IntroChamp by using the comment form on this page or at templates.introchamp.com