IntroChamp | 8 years ago | 3 comments | 4 likes | 2,735 views
maitegras, Ulli, kayserhans and 1 other like this!
This video intro was the result of playing around with the voxel layer. It allowed me to create this 3D gun without any image mapping at all. I simply extruded different parts of a photo.
This is a quick way of creating a "model" when fine detail is not necessary.
I'll display the exploded view of the gun later in this post for those who would like a better look.

LONG LIVE BLUFF!
Very clever and effective.
JimH, 8 years ago
I assume you have used a few voxel layers?

Maybe with this effect, a single voxel layer is enough:
www.outerspace-software.com...

michiel, 8 years ago
Comment to this article
More by IntroChamp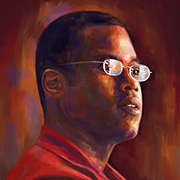 About IntroChamp
Joel Cooper is the founder and CEO of introChamp Inc. Many know him as the "Intro Champ".

His video template website makes it TOTALLY EASY for you to create AFFORDABLE, visually dynamic VIDEO INTROS in Minutes.

Contact IntroChamp by using the comment form on this page or at templates.introchamp.com