IntroChamp | 7 years ago | 3 comments | 6 likes | 2,246 views
chespi650, maitegras, sinus300 and 3 others like this!
This is an alternate intro version of my previous post found here www.outerspace-software.com...

A single idea can bear more than one fruit. Small changes can make a big difference.

I encourage Bluff Titler users to revisit their ideas to get the most out of their efforts.

I modeled the gas mask in Rhino3d.

LONG LIVE BLUFF!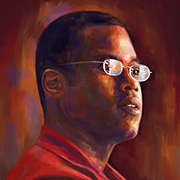 About IntroChamp
Joel Cooper is the founder and CEO of introChamp Inc. Many know him as the "Intro Champ".

His video template website makes it TOTALLY EASY for you to create AFFORDABLE, visually dynamic VIDEO INTROS in Minutes.

Contact IntroChamp by using the comment form on this page or at templates.introchamp.com