IntroChamp | 8 years ago | 6 comments | 10 likes | 3,553 views
BillyJack, jeffo, LostBoyz and 7 others like this!
Did you know that you can add a model to an eps file in a sketch layer? That's exactly how I create this plug.

The cord was created in bixelangelo and imported into a sketch layer as an eps file. The model (prongs) was created in Rhino3D and attached to the sketch layer in Bluff.

I then animated the sketch layer with the "writer" property in the properties drop down menu.

LONG LIVE BLUFF!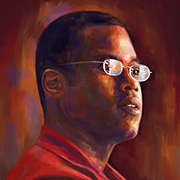 About IntroChamp
Joel Cooper is the founder and CEO of introChamp Inc. Many know him as the "Intro Champ".

His video template website makes it TOTALLY EASY for you to create AFFORDABLE, visually dynamic VIDEO INTROS in Minutes.

Contact IntroChamp by using the comment form on this page or at templates.introchamp.com