IntroChamp | 6 years ago | 4 comments | 9 likes | 3,911 views
persiana, Dani, sinus300 and 6 others like this!
This is a short intro that I re-purposed as a promo for my template website. Bluff is so versatile... it allows me to quickly get ideas out of my head and into video!

LONG LIVE BLUFF!!!
That is totally cool! Are the arrow and target both 3D models?
fdolansky, 6 years ago
Wow!!! Joel you are the best, timing is outstanding.

Dani, 6 years ago
Looks great! :-)))

Ulli, 6 years ago
Comment to this article
More by IntroChamp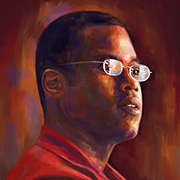 About IntroChamp
Joel Cooper is the founder and CEO of introChamp Inc. Many know him as the "Intro Champ".

His video template website makes it TOTALLY EASY for you to create AFFORDABLE, visually dynamic VIDEO INTROS in Minutes.

Contact IntroChamp by using the comment form on this page or at templates.introchamp.com