IntroChamp | 6 years ago | 6 comments | 3 likes | 2,513 views
Carlos Marques, liuyongcai and Dani like this!
Another Gamer Intro.

Download the Sniper Rifle using the link below... don't worry, the safety's on! ;)

LONG LIVE BLUFF!!!

dl.dropboxusercontent.com...
Thanks Joel,

Did you make this yourself in Rhino 3d?

Safety comments:

Do not use this Rifle in a Belltower.
Use only to spread democracy.
Do not touch barrel after firing a couple of rounds.
Keep your weapon clean and well oiled.

And now shoot some basterds..........

komies, 6 years ago
Lol! Nice one Komies!... I had forgotten about that scene!

I've had the model for some time now and converted it in Rhino to .X... can't remember where I acquired it, but I can tell you that it was royalty free. With some effort I can figure out the source if you need documentation.

Hilarious comment! Much appreciated... Lol!

IntroChamp, 6 years ago
I like the way Sniper Rifle turned with fire!! Thank you Joel

Dani, 6 years ago
Thanks Dani! I'm glad that you like that element. How to end an intro is always a challenge.

IntroChamp, 6 years ago
Yes Joel i agree, every show is a challenge, needs time, effort ,hard work ,i appreciate your hard work . You are great asset to bt gallery ,thank you.

Dani, 6 years ago
Comment to this article
More by IntroChamp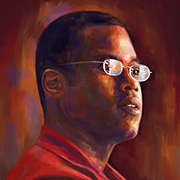 About IntroChamp
Joel Cooper is the founder and CEO of introChamp Inc. Many know him as the "Intro Champ".

His video template website makes it TOTALLY EASY for you to create AFFORDABLE, visually dynamic VIDEO INTROS in Minutes.

Contact IntroChamp by using the comment form on this page or at templates.introchamp.com