IntroChamp | 7 years ago | 5 comments | 13 likes | 2,986 views
liuyongcai, BillyJack, vincent and 10 others like this!
I modeled this low-poly bank vault in Rhino3D, especially for use with BluffTitler. I have provided the model at the link below for you to use however you like :)

LONG LIVE BLUFF!!!
Download media files (108.7 KB)

Hi John, not sure about the music. Got if from a royalty free library that I acquired. ... and you're welcome :)

IntroChamp, 7 years ago
Joel this is one of the best shows of you!!! thank you for the model.

Dani, 7 years ago
Thank you Dani! Have fun with the model :)

IntroChamp, 7 years ago
Thank you for sharing

chaver, 3 years ago
Comment to this article
More by IntroChamp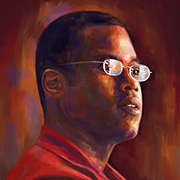 About IntroChamp
Joel Cooper is the founder and CEO of introChamp Inc. Many know him as the "Intro Champ".

His video template website makes it TOTALLY EASY for you to create AFFORDABLE, visually dynamic VIDEO INTROS in Minutes.

Contact IntroChamp by using the comment form on this page or at templates.introchamp.com