IntroChamp | 6 years ago | 4 comments | 7 likes | 1,479 views
ID Production, michiel, vincent and 4 others like this!
LONG LIVE BLUFF!!!
Good to see the particle dissolve effect again!

We'll have to find a way to make this effect easier to use in version 12.
www.outerspace-software.com...

michiel, 6 years ago
Nice effect and well used here.

vincent, 6 years ago
Thank you Michiel an Vince!

Michiel, you've got me thinking about ways to make this effect less manual. Hmmm?

IntroChamp, 6 years ago
Comment to this article
More by IntroChamp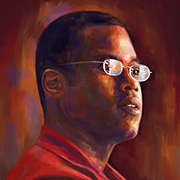 About IntroChamp
Joel Cooper is the founder and CEO of introChamp Inc. Many know him as the "Intro Champ".

His video template website makes it TOTALLY EASY for you to create AFFORDABLE, visually dynamic VIDEO INTROS in Minutes.

Contact IntroChamp by using the comment form on this page or at templates.introchamp.com