IntroChamp | 5 years ago | 8 comments | 11 likes | 1,703 views
misterbrains, komies, stuiter31 and 8 others like this!
Contrary to some beliefs, I do not post in this forum for applause or promotion. I post in this forum out of a deep appreciation for Michiel and his incredible application.

I do not pander for likes and comments... although I do appreciate those who do like and comment, because I realize that they share the same deep affection for Bluff that I do.

I have never ignored a question asked of me in this forum And indeed, I look forward to helping others where I can.

The fact that my video posts make reference to my website is because I do promote my website in other places around the internet using the same video which originates from my Youtube channel.

I'm sure there are constructive approaches to getting help and BT questions answered in this forum. I'm disappointing to witness approaches that seek to diminish an artist's reputation by implying that they are somehow conspiring and promoting selfishly.

I've seen a few positive and constructive approaches here very recently and I am in full support of those members and their efforts to help others. I look forward to taking part.

LONG LIVE BLUFF!
Nice idea and magnificently done !

vincent, 5 years ago
Great execution, of a seeminlgy easy concept, earasing a number.

Thank you Joel, I may have to take you up on your offer to help :)

Don't worry, I will no travel to New York with a cameracrew to record everything there is to know.

I may ask you later in time over some particulair (bixpack) shows, to give some pointers.

And maybe at the end a masterclass?

I always appreciated your contribution here on this forum.

Yours truly,

Komies

komies, 5 years ago
Thank you Vincent! Komies, no worries, bring your camera crew... lol! Seriously, I'm happy to help. Thanks.

IntroChamp, 5 years ago
Sweet work!
puffd, 5 years ago
That's a nice intention and you will be welcomed with some hints you may share in this gallery. What is necessary is not to provide the full BT file but the manner you do some approaches (backgrounds, effects, ...)
Thank you again for this intention.
Jean-Pierre
Jeep35, 5 years ago
Thank You puffd! Jeep35, sounds like a plan :)

IntroChamp, 5 years ago
WOW!!! what a great show Joel.

Dani, 5 years ago
Comment to this article
More by IntroChamp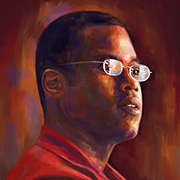 About IntroChamp
Joel Cooper is the founder and CEO of introChamp Inc. Many know him as the "Intro Champ".

His video template website makes it TOTALLY EASY for you to create AFFORDABLE, visually dynamic VIDEO INTROS in Minutes.

Contact IntroChamp by using the comment form on this page or at templates.introchamp.com