IntroChamp | 6 years ago | 5 comments | 8 likes | 1,599 views
agpvn, michiel, komies and 5 others like this!
Playing around with a hi-tech interface style and came up with this. It seems busy, but I threw out more elements than I used lol!

LONG LIVE BLUFF!!!
i like this digital presentation with scan effect.

vincent, 6 years ago
haha cool! looks like an intro for mission impossible! great work!
roberto666, 6 years ago
by the way, if you ever need individual music/jingle/ voiceover.....i have an recording studio :)
roberto666, 6 years ago
Always picking up the trends,

I noticed this style alot lately, great job

komies, 6 years ago
Comment to this article
More by IntroChamp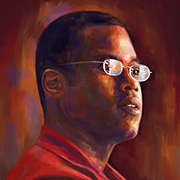 About IntroChamp
Joel Cooper is the founder and CEO of introChamp Inc. Many know him as the "Intro Champ".

His video template website makes it TOTALLY EASY for you to create AFFORDABLE, visually dynamic VIDEO INTROS in Minutes.

Contact IntroChamp by using the comment form on this page or at templates.introchamp.com