komies | 5 years ago | 7 comments | 6 likes | 1,653 views
Dani, Lee, michiel and 3 others like this!
The Text Layer is the most used layer in Bluff TITLER and it has also the most effects, to be added.

71 22 + 3 + 46 from the Three Layer Listbox
33 33 from The Properties listbox
20+ F9 .fx effects

124 in total. Not to mention the limitless textures that can be applied.

In the user guide F1 are all the features of this Text Layer so take a look.
outerspace-software.com...
FONT:

The type of font can make or break your design.
So try several by Edit> Change all Fonts…

komies, 5 years ago
TEXTURES:

A texture can give a better feeling for what you are trying to convey.
E.g. the word GRASS in grass texture.
Edit> Change all Textures

komies, 5 years ago
EFFECTS:

The most used effects are the ReflectionMap.fx and the ReflectiveFloor_ReflectionMap.fx
Media> Change Effect… or F9
.fx file can be edited in notepad, but a request to Michiel will be faster.

komies, 5 years ago
COMPOSITIONS:

In the First of the Three Layer Listbox you can choose out of 22, with Circle2 as one of the favorites.

FONT STYLES:

In the Third of the Three Layer Listbox you can choose out of 46 Styles, when you are on your Text Layer go to the first, click Single Sided and now press cursor down to see what each does.

komies, 5 years ago
Since there are a million options, the easiest and most fun way to learn some of them is making it:

In the next lesson we will make Text Layer based animations based on shows that came with the installer, forum shows and tv, movie concepts and try to translate them in Blufftitler.

This First Assignment is one I tried to make as one of my first attempts with Blufftitler, but now I made it again with new insight and I wanted to start with one of my favorite movie title openings.

komies, 5 years ago
GOD BLESS YOU, Komies, you have so much of patience , you deserve a medal. i am also learning from your articles , a big thank you from my bottom of heart, great......................

Dani, 5 years ago
Comment to this article
More by komies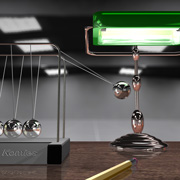 About komies
Contact komies by using the comment form on this page or at testground@live.nl