komies | 5 years ago | 7 comments | 4 likes | 2,108 views
jopin, persiana, michiel and 1 other like this!
It is not a very difficult effect for Blufftitler to duplicate and is based on this installer show:

c:\outerspace software\blufftitler\media\shows\text effects\Extrusion.bt
THE ASSIGNMENT:

MAKE AN 8 SECOND SHOW WITH THIS SUPERMAN TITLE EFFECT OF ONE PASS OF A SINGLE TITLE.

POST IT VIA A LINK UNDER THIS ARTICLE FROM YOUR VIDEO SHARE PLATFORM LIKE YOUTUBE.

You are of course free to make it your own, as long as the title effect stands.

You may attempt to do more than one pass and or in reverse, not for the faint-harted

komies, 5 years ago
There is not one way to do this but several, and I am curious to see what each of yours approach will be.

Help each other:

Ask your questions under this article.
Give hints and suggestions under this article.

komies, 5 years ago
This is the Technical info sheet from a one pass show:

komies, 5 years ago
This is my interpretation with music.

komies, 5 years ago
This one without music.

komies, 5 years ago
On Wednesday I will post the whole show without sound and superman colored chest logo.

So you can see how I did it, I kept it simple. Like the one pass show.

Good luck in trying to figure it out.
Good fun in making your show

Komies.

komies, 5 years ago
Comment to this article
More by komies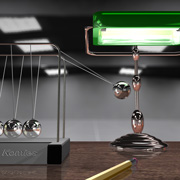 About komies
Contact komies by using the comment form on this page or at testground@live.nl