komies | 5 years ago | 9 comments | 5 likes | 1,828 views
vincent, chaver, Dani and 2 others like this!
This is again a simple video to demonstrate the camera, light and shadow.

Next Wednesday, more details for now: it for you to figure it out how it was made.

Please look at the shadow of the word "SPACE" when the camera fly's through the letter "O" it shrinks and grows, it is done on purpose for a reason. I will come back on that, and alternatives to do the same.
This will be the last lesson for now, the reasons why follows:

1. When I offered to do this I wanted to get the newbies together and I would select an installer or gallery show, and for them to improve on. With guidance from me and all the others who would participate. Maybe I was naïve or to enthusiastic, but this did not work.

komies, 5 years ago
2. I then switched to a video presentation like lesson of what Blufftitler can do, so no interaction needed. But this is also not the way, I could have done 20 or more of these but it proves to be time consuming to make, and I was severely limited by the use of the installer given media, like reflection maps, so the show could be uploaded without breaking the forum rules.

I AM NOT GIVING UP, I just need to think of a better way to communicate, and I believe I found it.
I learned that the first two lessons where the biggest hits and my conclusion is therefore as follows.

You don't want to get lessons, you want tips and tricks!!

So here by I will start next week with the first of them.

komies, 5 years ago
good idea Komies!
snafu, 5 years ago
komies, I can't see the video. The error message is:

Deze video is privé.

michiel, 5 years ago
Great effects

chaver, 5 years ago
Sorry, it's now public.

The original 13 second video was public, but I used youtube online video-editor to make it repeat with a picture in front and back to fit the music. It sets it automatically on private!!

komies, 5 years ago
And you called it a "simple video"!, my Goodness if someone asks me for a video like that one it could be an impossible mission for me.

And the effect of those balls bouncing and passing through the characters without touching them!

I envy your skills, and can't wait to see the next lesson.
snafu, 5 years ago
I call it simple because it is made of only installer given media, and it has only 10 layers, camera, ambient light ,pointlight, 3 text layers, 1 picture layer and 3 particle layers. That's why I call it "Simple".

In the link underneath is a very difficult show, it has 840 layers.

On Wednesday I will post the show and info about it.

komies, 5 years ago
Comment to this article
More by komies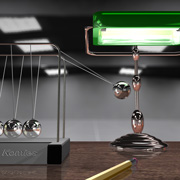 About komies
Contact komies by using the comment form on this page or at testground@live.nl