IntroChamp | 5 years ago | 8 comments | 6 likes | 1,532 views
LostBoyz, kayserhans, komies and 3 others like this!
I plan to ask the new displacement effect to marry me!

BT12_BETA

LONG LIVE BLUFF!!!
Looks absolutely spectacular. I however have no idea where in this animation the displacement effect is used... I guess creative geniuses always use technologies for what it has not been designed for ;)

michiel, 5 years ago
Thank you Michiel for the generous compliment! The displacement effect is used to "burn" away the logo. Thanks again! :) ~Joel

IntroChamp, 5 years ago
Oh wow. I do not understand it completely but I sure enjoy it!

I now know how Leo Fender must have felt listening to Jimi.

michiel, 5 years ago
Does your girlfriend know about this? :)

Nice use of the FX Clip position.

komies, 5 years ago
Fantastic show Joel.

Dani, 5 years ago
Nice & pro. Are lightnings and fire done with video at the beginning ?

vincent, 5 years ago
Michiel, Bluff inspires! Thank you for your "Beautiful Mind" :)

Komies, my girlfriend is the ForceField effect an she just wants me to be happy ;)

Dani, thanks, I look forward to your awesome shows!

King Vincent, no video, all Bluff!

IntroChamp, 5 years ago
Comment to this article
More by IntroChamp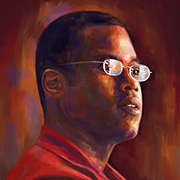 About IntroChamp
Joel Cooper is the founder and CEO of introChamp Inc. Many know him as the "Intro Champ".

His video template website makes it TOTALLY EASY for you to create AFFORDABLE, visually dynamic VIDEO INTROS in Minutes.

Contact IntroChamp by using the comment form on this page or at templates.introchamp.com