IntroChamp | 5 years ago | 7 comments | 7 likes | 1,413 views
liuyongcai, Dani, michiel and 4 others like this!
I used the ColorDisplacementmapCubemap.cfx on the text layer to create evolving vascularity within the letters.

LONG LIVE BLUFF!!!
Powerful Joel!!! Joel muscle power seen in this show.

Dani, 5 years ago
Doping!

vincent, 5 years ago
Thank you Dani and Vincent.

Yes, Vincent... This person actually shows people how to use steroids for bodybuilding correctly. He's surprisingly unapologetic.

IntroChamp, 5 years ago
es impresionante

persiana, 5 years ago
Gracias por el comentario agradable persiana

IntroChamp, 5 years ago
Wow. Brilliant use of displacementmapping!

I think you mean the ColourmapDisplacementmapCubemap effect. This is indeed a long name, but an effect that uses 3 textures (multitexturing) needs a long name:
www.outerspace-software.com...

michiel, 5 years ago
Comment to this article
More by IntroChamp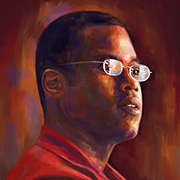 About IntroChamp
Joel Cooper is the founder and CEO of introChamp Inc. Many know him as the "Intro Champ".

His video template website makes it TOTALLY EASY for you to create AFFORDABLE, visually dynamic VIDEO INTROS in Minutes.

Contact IntroChamp by using the comment form on this page or at templates.introchamp.com