IntroChamp | 5 years ago | 5 comments | 6 likes | 1,502 views
persiana, liuyongcai, komies and 3 others like this!
Long Live Bluff!
¡Viva Bluff!

Please don't give me the finger, for saying this:

This Intro is finger licking good!

komies, 5 years ago
Vertiginous!

vincent, 5 years ago
Komies, I get the "point" lol!

Vincent, you just taught me a new word👌

IntroChamp, 5 years ago
Yes NO 1 show Joel.
like the movements.

Dani, 5 years ago
Thanks Dan the Man!

IntroChamp, 5 years ago
Comment to this article
More by IntroChamp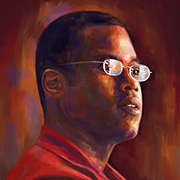 About IntroChamp
Joel Cooper is the founder and CEO of introChamp Inc. Many know him as the "Intro Champ".

His video template website makes it TOTALLY EASY for you to create AFFORDABLE, visually dynamic VIDEO INTROS in Minutes.

Contact IntroChamp by using the comment form on this page or at templates.introchamp.com