IntroChamp | 5 years ago | 4 comments | 9 likes | 1,695 views
liuyongcai, ID Production, crispin and 6 others like this!
Let's discuss how color impacts video intros in general...


COLORS SHOULD BE FUN BUT NOT ARBITRARY
The colors that you use when designing video intros must serve your subject and your audience.


THE CHALLENGE
The challenge here was to choose colors that convey a sense of hi-tech mystery.
If you watch enough science fiction movies such as The Matrix, you'll notice that they make liberal use of fluorescent green. That's where I took my cues for the colors that I used in this video intro.


BE MINDFUL OF YOUR COLOR CHOICES
I try to keep my color palettes very limited. Each time I add a color, I need a very good reason for introducing that color. The colors must work together to strengthen the theme and the viewer's expectation.

When you add a color to your design, ask yourself why. If you can't come up with a good reason, leave it out.


IF YOU'RE DESIGNING FOR TEMPLATES, CONSIDER A NEUTRAL COLOR PALLET
You may also notice that many of the colors in my template designs are neutral. This is because I anticipate that the viewer will add his/her own logo to the design that contains it's own color characteristics.

It's important that the colors that I choose don't make it impossible for the user's logo to exist in harmony.

Feel free to add your own experiences with color and observations in this thread :)


Long Live Bluff!
¡Viva Bluff!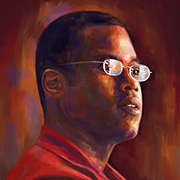 About IntroChamp
Joel Cooper is the founder and CEO of introChamp Inc. Many know him as the "Intro Champ".

His video template website makes it TOTALLY EASY for you to create AFFORDABLE, visually dynamic VIDEO INTROS in Minutes.

Contact IntroChamp by using the comment form on this page or at templates.introchamp.com