IntroChamp | 4 years ago | 3 comments | 7 likes | 1,654 views
persiana, LostBoyz, michiel and 4 others like this!
Let's discuss how AUDIO impacts video intros in general...


AUDIO AS AN AFTERTHOUGHT
It's easy to consider audio as an afterthought or add-on to your video designs... but you'd be missing an important avenue of communication to your viewers.


THE CHALLENGE
A big challenge is to create the perfect marriage between visual design and audio in your creations. Spending your precious time create great designs, only to make a half-hearted attempt at attaching audio disrespects your efforts.


AUDIO EFFECTS ARE THE EXCLAMATION POINTS
Once you find the right marriage between your music and your graphics, begin thinking about the movements in your design and how you can punctuate them with sound effects. Sound effects excite your audience and can strengthen the impact that your design has on your viewers.


EDIT YOUR AUDIO
If your audio doesn't make sense given the duration of your video, seriously consider editing the audio.

Audio that ends prematurely or that doesn't end properly diminishes your efforts.


INVEST IN YOUR CRAFT
There are several sources for royalty free audio on the internet. You need only google "royalty free audio".

If you're a serious hobbyist or have larger goals for your video designs, there is no way around investing in royalty free audio. Consider investing in a good sound effects library also.


CONCLUSION
Fight the urge to wrap up your designs before you seriously consider the role your audio has played in strengthening that design.

As always, I invite you to add your own experiences and insights with audio in this thread.


Long Live Bluff!
¡Viva Bluff!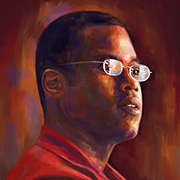 About IntroChamp
Joel Cooper is the founder and CEO of introChamp Inc. Many know him as the "Intro Champ".

His video template website makes it TOTALLY EASY for you to create AFFORDABLE, visually dynamic VIDEO INTROS in Minutes.

Contact IntroChamp by using the comment form on this page or at templates.introchamp.com