IntroChamp | 4 years ago | 8 comments | 7 likes | 1,687 views
komies, LostBoyz, michiel and 4 others like this!
Let's discuss how IDEAS impact video intro templates...


"The IDEA is KING"
Good ideas outlast bad reproductions.

This means that it is better to have a good idea than a good design.

That is the first odd but true lesson of good design.

If you can manage to have both, you have then accomplished something very special... We all fall short of this goal sometimes, but it should always be your intent.


How does this concept relate to template design?
The best template designs evoke emotion from the viewer. That starts with careful consideration of your message... Ask yourself "What do I want the viewer to know and/or feel?"


THE GOAL
It's tax time here in the U.S... The idea of the the video above was to create a design that appeals to the viewer's hope that this will be a financially lucky tax season.

I envision this template being useful for anyone in the financial industry or someone who has an interest in money management and saving money.


FEELING LUCKY?
Once in a while we stumble upon a good idea that unfolds effortlessly within BluffTitler's preview window...

...more often though, good ideas are born of research, reflection and trial and error... rarely by accident.


TRICK OR TREAT?
Tricks and effects are fun, but alone, they don't amount to much. When they are used to support your idea/goal, they take on new life and help create a powerful statement.

I would urge you to slow down and be thoughtful when designing templates. Always design as if you are the viewer.

Please feel free to share your thoughts and experiences in this thread.


Long Live Bluff!
¡Viva Bluff!
Great tips, thank you!

I would like to add one:


Be open minded
Give every idea its chance. Be happy if it works out well. And be honest if it doesn't.

In my view it works best to have lots of vague ideas, try them all quickly, have fun with them and continue with the one that works best.

The opposite would be to come up with 1 supposedly brilliant idea and invest all your time in making this single one a success. This is a recipe for frustration.

I think this is true not only for template design, but also for app design and life in general.

michiel, 4 years ago
Thank you Dani and Persiana!

Good stuff Michiel!

You have made some excellent observations. It's true, there is no one way to acquire good ideas. People will approach concepts differently.

Your point about frustration is also on target. I find that it is best to walk away from a design and revisit it later with a fresh perspective, than to grind away in futility.

My personal rule is that if I'm not having fun, it's time to walk away.

IntroChamp, 4 years ago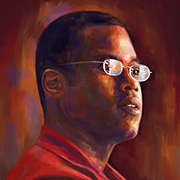 About IntroChamp
Joel Cooper is the founder and CEO of introChamp Inc. Many know him as the "Intro Champ".

His video template website makes it TOTALLY EASY for you to create AFFORDABLE, visually dynamic VIDEO INTROS in Minutes.

Contact IntroChamp by using the comment form on this page or at templates.introchamp.com