IntroChamp | 4 years ago | 2 comments | 7 likes | 1,289 views
Dani, LostBoyz, vincent and 4 others like this!
MOTION BLUUURRRRR
If you've downloaded the latest version of BluffTitler (12.2.0.6) you may have noticed on the camera layer there are new options for MOTION BLUR.


IT'S A BIG DEAL!
This may seem at first to be a small addition, but it's a visually powerful option.
What is animation, but motion. MOTION BLUR adds velocity to that motion!

I've used it here very subtly. Look closely at the objects as they move and you'll notice a slight motion trail in the direction of the movement. It's not very pronounced, but it makes a big difference in the casual viewer's perception of the movement.

Depending on your own design, you'll have the option to exaggerate the movement by adjusting the "motion blur frames" and the "motion blur intensity" options of the camera layer.

Play around with it... I would love to see your posted results!


Long Live Bluff!
¡Viva Bluff!
Subtle is good. Making the viewer "feel" the effects rather than "see" them makes the difference between kitsch and art. And between a tech demo and an intro.

Next to accenting movement, motion blur also has a pure technical purpose: making the videos play more smooth. This is especially important when the framerate is low (less than 25 fps) for example when the internet connection is slow.

michiel, 4 years ago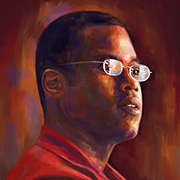 About IntroChamp
Joel Cooper is the founder and CEO of introChamp Inc. Many know him as the "Intro Champ".

His video template website makes it TOTALLY EASY for you to create AFFORDABLE, visually dynamic VIDEO INTROS in Minutes.

Contact IntroChamp by using the comment form on this page or at templates.introchamp.com