IntroChamp | 4 years ago | 6 comments | 8 likes | 1,065 views
michiel, vincent, Dani and 5 others like this!
It may be interesting to note that I've created the grass here as a particle (.png).

See the link below to learn more about this technique and other similar techniques for creating grass.


Long Live Bluff!
¡Viva Bluff!
Grass as Particle Technique
www.outerspace-software.com...

IntroChamp, 4 years ago
Muy bueno, buena resolución de la hierba

persiana, 4 years ago
Great and fast implementation.

I really liked the openness of this grass thread, that lead to better understanding of particles and additive blending, at least for me.

Thank you for your contribution to this thread and the community

komies, 4 years ago
Super intro

vincent, 4 years ago
Well done!!! Joel, love the background animation.

Dani, 4 years ago
Comment to this article
More by IntroChamp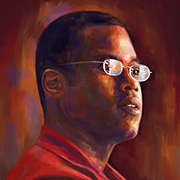 About IntroChamp
Joel Cooper is the founder and CEO of introChamp Inc. Many know him as the "Intro Champ".

His video template website makes it TOTALLY EASY for you to create AFFORDABLE, visually dynamic VIDEO INTROS in Minutes.

Contact IntroChamp by using the comment form on this page or at templates.introchamp.com