IntroChamp | 4 years ago | 8 comments | 8 likes | 1,319 views
michiel, vincent, Dani and 5 others like this!
16 BITS! Hurray!!!

I made generous use of the "ColourmapDisplacementmapReflectionmap.cfx" effect in this intro design.

To create the terrain here, I used "World Machine" www.world-machine.com It's pretty cool for creating mountains and valleys. But not being satisfied with creating standard terrains, I decided to push the software into uncharted territory.

Blufftitler's recent addition of 16 bit displacement made this result possible.

Thank you Michiel!


Long Live Bluff!
¡Viva Bluff!
Outstanding!!! the best Displacement effect for ever!!! great job ********************Joel. i want to learn this so excited . Michiel would be very happy( Me too).

Dani, 4 years ago
ingenious use....bravo Joël!!!!

vincent, 4 years ago
Great dollar sign. I'm looking for freeware alternatives- I'm dutch :-)
Filip, 4 years ago
great use of the 16 bit displacement map, very creative indeed!

komies, 4 years ago
muy creativo e ingenioso, francamente fatástico

persiana, 4 years ago
Very nice. World machine looks like a very powerful tool. Can't wait to see what else you can do with it!

Interesting that they call displacementmaps "heightfields". That's yet another name for the same thing:
-bumpmap
-displacementmap
-heightmap
-heightfield

michiel, 4 years ago
Maybe something is possible with googleEarth too, they have all relief informations, there is an option to save pics but i did not found how to export as greyscale heighmap easily.

vincent, 4 years ago
Comment to this article
More by IntroChamp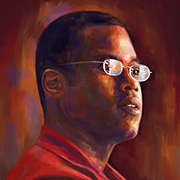 About IntroChamp
Joel Cooper is the founder and CEO of introChamp Inc. Many know him as the "Intro Champ".

His video template website makes it TOTALLY EASY for you to create AFFORDABLE, visually dynamic VIDEO INTROS in Minutes.

Contact IntroChamp by using the comment form on this page or at templates.introchamp.com