IntroChamp | 4 years ago | 8 comments | 7 likes | 1,997 views
komies, Tintin, michiel and 4 others like this!
This series of intros are derivatives of the Awesome
BixPack 20 template pack!
http://www.outerspace-software.com/bixpack/pack?p=20

BixPack 20 is a playground of knowledge and technique... not to mention EYE CANDY!


Long Live Bluff!
¡Viva Bluff!
Yes, Bixpack 20 is great, especially the 16 bit displacement map is a welcome addition. Imagine all the things you can do now: Build planets, build terrains, build complex geometric shapes etc etc and it starts with a one picture layer and one effect. The sky is not the limit anymore, it lies somewhere between Outerspace and your imagination :)

komies, 4 years ago
Impressive compilation. Nice work Joël. And yes komies is right and i wait for the next version because i have some diffilcuties to create real 16bits grayscale pics.

vincent, 4 years ago
Vincent, next version, planned for launch next week, will happily import 48 bits pictures as 16 bits displacementmaps. This is convenient because not all texture creating tools export displacementmaps in true 16 bits greyscales.

But I still advise you to do the conversion. A 16 bits greyscale file is much smaller, loads faster and contains the exact same info. Here's how to do the conversion in Photoshop.

michiel, 4 years ago
Thank you michiel, i have not Photoshop but maybe i'll try it, I use Ulead and there is the same option as shown in your example but then when i save file and verify properties after saving (right-click on the saved file->propeties->detail) i read 8 bit in color depth ?!.
With photoshop once you set the mode to Grayscale then when you save the file you select png format and nothing else in the options ?

vincent, 4 years ago
Michiel, I tried with an old free version of photoshop (CS2) and now i can convert in 16bits grayscale, but i don't see any difference if there is 'displacement' or not in the picture name, why ? Thanks

vincent, 4 years ago
Thank you for the comments!
Komies, l love the poetic way that you turn a phrase :)
Vincent, I hope that you are finding displacement success.

IntroChamp, 4 years ago
Vincent, 16 bits is only necessary for landscapes with steep and flat areas viewed from low altitudes.

For a planet in the background, an 8 bits displacementmap is good enough: you won't see any difference with a 16 bits version.

michiel, 4 years ago
Comment to this article
More by IntroChamp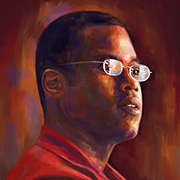 About IntroChamp
Joel Cooper is the founder and CEO of introChamp Inc. Many know him as the "Intro Champ".

His video template website makes it TOTALLY EASY for you to create AFFORDABLE, visually dynamic VIDEO INTROS in Minutes.

Contact IntroChamp by using the comment form on this page or at templates.introchamp.com