komies | 3 years ago | 6 comments | 8 likes | 1,038 views
Thor5ten, LostBoyz, vincent and 5 others like this!
THIS IS NOT A SHOW

Just playing around with the new "Stand In Landscape" Particle test.
Great landscape ! invasion of penguins & like aurora borealis

vincent, 3 years ago
Thanks Vincent,

Landscape is Polygons.jpg that comes with the Installer. :)
The Aurora Australis is AlienBrainBumpmapAdditive.cfx with VerticalLines3.png and Cartoon_Rainbow.png

I wished I had more time, to do other things to try-out and experiment.

komies, 3 years ago
Great :)

chaver, 3 years ago
A beautiful show. :-))

Ulli, 3 years ago
So you use the polygons colourmap as a displacementmap to produce floating ice (ijsschotsen)?

Geniaal!

michiel, 3 years ago
Comment to this article
More by komies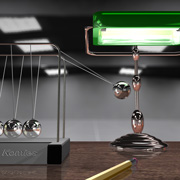 About komies
Contact komies by using the comment form on this page or at testground@live.nl