Dani | 2 years ago | 7 comments | 9 likes | 661 views
komies, Tintin, vincent and 6 others like this!
Very early Christmas mood...feeling very cold here...
Nice font and colors Dani, as always cut and dry!
i presume you begin a Christmas/New Year serie 🎄

vincent, 2 years ago
Early indeed, Turkey 🦃 day has still to come :)

Great start for the upcoming holidays, Dani

komies, 2 years ago
Thanks Dani, I'm ready for summer too!! LOL
Sarge
SMSgtRod, 2 years ago
Nice :)

chaver, 2 years ago
Dany as always sharp and collorfull and on top of it EARLY.....

The dutch are looking forward to Sinterklaas on the 5th of December...its to early for christmas...
Filip, 2 years ago
Beautiful! I like colors and font.

Ulli, 2 years ago
Comment to this article
More by Dani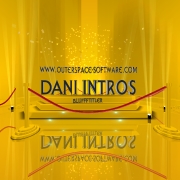 About Dani
Daniel lives in Hyderabad city in India, He loves to work with Blufftitler , For to him Every day begins with Blufftitler , He called himself a mad lover of Blufftitler.
Thank you for watching my shows and your great support.
Lots of Love from
Dani,
Hyderabad,
India.

Contact Dani by using the comment form on this page or at sriblessydaniel@gmail.com, facebook.com/dani.daniel.94064 or youtube.com/user/sriblessydaniel