komies | 2 years ago | 8 comments | 7 likes | 1,051 views
vincent, snafu, Dani and 4 others like this!
@Franco

You can have rows of trees with movement or more random placed and other great particle properties on a picture and even on a colour of that picture and have the effect slot free for vegetation.cfx or dancingfool.cfx or ..... It also works with the landscape layer "Stand in Lanscape" to place the trees on different heights determined by the Displacementmap.

Take a look at this Christmas show from 2016 in the link to download and the layers 6 and 8 "The Tree Locationmap" it uses the Launch Colour Tolerance property of the particles layer to place the trees on a specific colour set in Launch Colour.
www.outerspace-software.com...
Great, but I don't understand how it work.
could you just make an example with 2 levels, please?

So if launch color tolerance is set and launch color is the color form the particles are launched !
Franco Aversa, 2 years ago
You can do it too, Franco

Add layer, picture layer, select this picture above "right click save as" Rotate 2nd slider to 90 and place it at about -80 (afterwards you can set Invisible.cfx on it)
Attach layer Particle layer select a preset like pointillism.
Set Launch colour to 255, 0, 0 (RED)
Set Launch colour Tolerance to like 0.2 (Till only the red color is effected)
In Style select 3D model go to Media/ Change model, choose model
Set Chameleon to 0 to keep original colour of model, you may have to clear the texture (F9).
The rest is the normal particle properties: www.outerspace-software.com...

In the downloadable show (fasy and dirty) I just deleted some layers from the winternormalland show and changed the tree models with Bix and EZ.

Properties with + are animated and - are changed (Settings/Options/add - sign to non-default properties)

This was from a time where tips and tricks where in my shows for others to find without explanations.

Good Luck and have FUN

Download from here:
1drv.ms...

komies, 2 years ago
thank you very much, now I managed, I did not understand what base of particles to leave and then change with the 3D model. I had never used this function to cast particles from a single color.

Thank you so much !!
Franco Aversa, 2 years ago
Thank you again !!
Franco Aversa, 2 years ago
You're Welcome, Franco

It's the reason this community exist, to help, appreciate and inspire each other.

komies, 2 years ago
yes, it is also my philosophy.
Franco Aversa, 2 years ago
Thanks for sharing !!!!!!
snafu, 2 years ago
Comment to this article
More by komies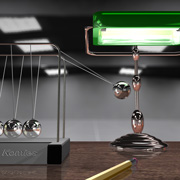 About komies
Contact komies by using the comment form on this page or at testground@live.nl