What is a bitmap font?
A bitmap font is a font in which every glyph is a picture. Other names for bitmap fonts are colour fonts, multi-coloured fonts, chromatic fonts, photo fonts, picture fonts, image fonts, raster fonts, texture fonts and handmade fonts.
View screenshot
Convert vector fonts into bitmap fonts
Alphabix can convert any TrueType, OpenType and Type 1 font installed on your system.
View Screenshot
Replace glyphs by pictures
Any glyph can be replaced by any PNG, BMP, GIF, TIF or JPG picture. Alpha channels are correctly imported.
View Screenshot
Glyphs editor
In the glyphs dialog you can set the spacing for every glyph as well as the baseline and the cap height.
View Screenshot
Kerning editor
In the kerning dialog you can adjust the spacing between specific pairs.
View Screenshot
Import Photofonts
Choose FILE > Import Photofont... to import a Photofont (.PhF).
Download Photofont examples
Use bitmap fonts in BluffTitler
Bitmap fonts created by Alphabix can be used by the text and scroller layers of BluffTitler. Click on the Select Bitmap Font... button in the font dialog(<F6>) to select a bitmap font.
View Screenshot
Export as HTML
Choose FILE > Export as HTML to export your font for use on a website. The Alphabix Javascript renderer works in any HTML5 compatible browser on desktops, tablets and phones.

Try the Mardou font in your browser
Try the Bix font in your browser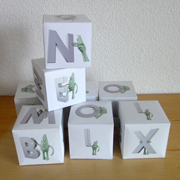 Export as letter cubes cut-outs
Alphabix can create cut-outs for letter cubes. Just enter the names you would like to write and the cut-outs are generated fully automatically. The algorithm has been optimized to write as many names with as little cubes.
View Screenshot