Carlos Marques has created the following 14 BixPacks:
34 | Season's Greetings
This is a very special pack. Six designers from six different countries have teamed up to create the ultimate season's greetings video template pack: Christmas, New Year, Three Kings and Kwanzaa! Surprise your family, friends and business partners with an original, personal holiday video or greeting card. The year can be adjusted so the templates can be used for many years to come!
Learn more | Watch video | Buy
32 | Moon
The moon pack offers 30 (+11 bonus!) Moon templates. Fly in low Moon orbit over the Aristarchus crater, experience Earthrise and visit the Apollo landing sites. Play around with the high resolution colour and displacementmaps of the Moon and the Earth!
Learn more | Watch video | Buy
31 | Lower Thirds
The lower thirds pack offers elegant animated overlays in a clean and modern style. The templates use subtle animated background photos, but can also be exported with transparency info to overlay them onto your videos in your NLE.
Learn more | Watch video | Buy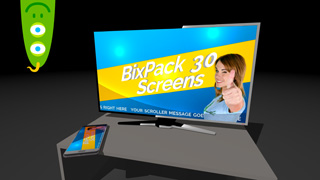 30 | Screens
The screens pack features six 3D models: arcade, billboard, phone, monitor, TV and old TV. Vivid colours fill the screens while the camera zooms in and out, jumping to fresh new worlds!
Learn more | Watch video | Buy
24 | Vlog Intros
BixPack 24 offers 30 (+10 bonus!) vlog intros in a clean, modern web design style. The emoji characters require Windows 10, but can easily be replaced by ordinary characters on older systems.
Learn more | Watch video | Buy
22 | Dutch skies
BixPack 22 is inspired by the air, water and light of Holland. It comes with 16 360° photos of Dutch skies, offering a wide variation of cloud types. 30 ready to use templates demonstrate the possibilities of mixing 360° photography with 3D graphics!
Learn more | Watch video | Buy
20 | Space
The Space pack offers 30 space templates: earth, moon, exoplanets, ice planets, magma planets, meteors and nebulae.
Learn more | Watch video | Buy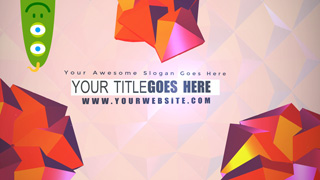 17 | Happy
BixPack 17 offers 30 happy templates for all your titles and intro videos in a clean, professional style. Some are 2D, some are subtle 3D and others are dizzying 3D!
Learn more | Watch video | Buy
15 | Sound Systems
BixPack 15 offers 30 templates, happily jumping to the beat. The six included intro tunes (MP3) have been created by Miniasola specifically for the sound systems pack. Just like the other media files, they can be used on a royalty free basis for all your projects!
Learn more | Watch video | Buy
13 | Introductions
BixPack 13 offers 30 templates to introduce your friend, your client or yourself to the world. Next to a name, you can communicate a web address, a slogan, a photo and a picture of your product!
Learn more | Watch video | Buy
11 | Party
BixPack 11 offers 30 ready to use templates for your party. The pack covers all party aspects: inviting your friends, a countdown, welcoming them, introducing the DJs, displaying messages and thanking everyone at the end. The party pack comes with 10 animated party silhouettes.
Learn more | Watch video | Buy
10 | Splines in Space
BixPack 10 offers spectacular 3D splines, shields, billboards and planets all flying through outer space. The splines pack comes with a collection of 3D splines for use in the sketch layer, powerful reflectionmaps and colourful flares!
Learn more | Watch video | Buy
6 | Shine and Glow
BixPack 6 offers six super shiny scenes: arena, control room, pyramid, shaft, alert system and dancing fool. The 30 templates feature spectacular neon light shows in virtual studios, making your texts and pictures look like superstars in a TV show!
Learn more | Watch video | Buy
5 | Sports
BixPack 5 offers six sport scenes including spectacular stadiums, 3D score boards, billboards and sport shields. The sports pack comes with more than 50 colourful, extremely powerful and very effective reflectionmaps!
Learn more | Watch video | Buy