Ernst Hulshoff has created the following 20 BixPacks:
45 | Rolling Wheels
BixPack 45 explores the power of the auto rolling wheels and caterpillar treads (continuous tracks). Move the layer and your wheels and caterpillars are animated automagically! It uses a dark, sinister game style with dirty textures (rusty metal, grimy concrete and rough asphalt), spectacular explosions, fast camera switching and distortion effects. Colour, normal, specular and cube maps are used for realistic PBR.
Learn more | Watch video | Buy
43 | Robotic Arms
BixPack 43 explores the possibilities of the new Robotic arm layer: forward and inverse kinematics, picking up and moving texts, writing (handwritten) texts and tracing logos. Perform scary biomechanical experiments with spiders, centipedes and mammals. 10 ready to use robotic arm models are included as well as a spider body and a Bix controlled UFO!
Learn more | Watch video | Buy
42 | Quadcopter
Explore the universe with your fully personalizable quadcopter in six exciting scenes: a pop stage, a jungle, a flower field, an island, an open sea and a Mars canyon. Enjoy the highly detailed textures, height maps & 3D models!
Learn more | Watch video | Buy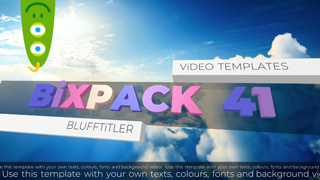 41 | Titles
The Titles pack offers simple, abstract and useful title templates for all your videos. All templates have a transparent background: add a picture, add a video or export with alpha channel.
Learn more | Watch video | Buy
40 | Big Data
The Big Data pack offers tech templates featuring UTP cables, routers, chips, circuit boards, motherboards, flight paths, tunnels and control panels. The cables and links are implemented as sketch layers. The templates are spiced up with bloom, flares, particle and light effects!
Learn more | Watch video | Buy
39 | Dinos and Dragons
The Dinos and Dragons pack offers six fully animatable 3D models of prehistoric (Triassic, Jurassic and Cretaceous) dinosaurs and pterosaurs in a fresh cartoon style: a Diplodocus, a Stegosaurus, a Tyrannosaurus (T-Rex), a Velociraptor, a Pteranodon and a Tropeognathus. The models can be personalized with a single, easy to edit texture.
Learn more | Watch video | Buy
34 | Season's Greetings
This is a very special pack. Six designers from six different countries have teamed up to create the ultimate season's greetings video template pack: Christmas, New Year, Three Kings and Kwanzaa! Surprise your family, friends and business partners with an original, personal holiday video or greeting card. The latest version of this pack automatically updates the year!
Learn more | Watch video | Buy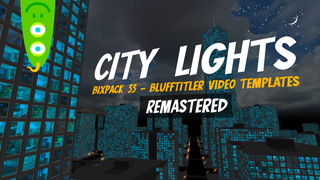 33 | City Lights
The City Lights pack uses the new Interiormap effect to create high-tech skyscrapers. Render your own content on the huge digital signage screens (LED facades) integrated in the buildings! The pack has been fully remastered with improved textures, colours, fonts and camera movements.
Learn more | Watch video | Buy
29 | Sea Monsters
The sea monsters pack features six cephalopod 3D models ranging from prehistoric (Ordovician period) cameroceras/orthoceras and ammonoid to modern day kraken, post-human robots and esoteric abstracts. The new octopus effect brings them all to life: animating their arms, shining their suckers, blinking their eyes and rendering their skin.
Learn more | Watch video | Buy
28 | Flowers
The flowers pack offers six high quality flower models: a Daisy, Buttercup, Forget-me-not, Gerbera, Poppy and a Water lily. 2 grass models make the scenes complete. The 30 (+ 9 bonus!) templates bring the 3D models to life!
Learn more | Watch video | Buy
27 | Jam, Jelly and Juice
BixPack 27 offers colourful abstract backgrounds: bubbling blobs, sweet jelly, wavy water, melting chocolade, colour gradients, colour transitions and more eye candy. The duration, speed and colours can easily be adjusted to suit any project.
Learn more | Watch video | Buy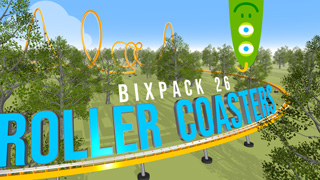 26 | Roller coasters
BixPack 26 offers 30 roller coaster templates. Make your titles ride spectacular roller coasters built out of loops, cobra rolls, hammerhead turns, batwings,... A wide variation of camera views including 1st person, 3rd person and drone view show the roller coasters from their best angles.
Learn more | Watch video | Buy
25 | Mission to Mars
BixPack 25 offers 30 (+10 bonus!) Mars templates. Visit Mars's highlights including Valles Marineris, Olympus Mons, Arsia Mons and its moon Phobos. Play around with terraforming and personalise the rocket ship with your own name and flag!
Learn more | Watch video | Buy
24 | Vlog Intros
BixPack 24 offers 30 (+10 bonus!) vlog intros in a clean, modern web design style. The emoji characters require Windows 10, but can easily be replaced by ordinary characters on older systems.
Learn more | Watch video | Buy
22 | Dutch skies
BixPack 22 is inspired by the air, water and light of Holland. It comes with 16 360° photos of Dutch skies, offering a wide variation of cloud types. 30 ready to use templates demonstrate the possibilities of mixing 360° photography with 3D graphics!
Learn more | Watch video | Buy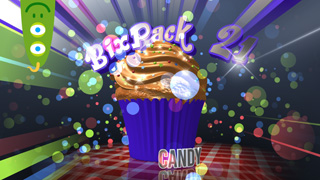 21 | Candy
The Candy pack offers 30 sweet templates featuring high quality 3D models of donuts, muffins, candy canes, gingerbreads, ice creams, strawberries, bonbons and more!
Learn more | Watch video | Buy
8 | Dust, Dirt and Destruction
BixPack 8 offers 30 (+ 1 bonus!) templates full of dust, dirt, destruction, rust, cracks, explosions, splashes, bugs, blood, smoke and bullets. The destruction pack comes with 30 full HD textures, 10 awesome 3D models and 2 creepy animated bugs.
Learn more | Watch video | Buy
3 | Home Videos
BixPack 3 offers home video templates for six events: birth, birthday, wedding, sport, holiday and party. The templates are relatively simple, making it easy to adjust them to your own taste.
Learn more | Watch video | Buy
2 | Ornaments
BixPack 2 offers six ornament styles: street art, flowers, fantasy, arrows, king of bling and pink & purple. 30 ready to use templates show the power of the BluffTitler ornaments system.
Learn more | Watch video | Buy
1 | Virtual Studios
BixPack 1 offers six virtual studios: a news studio, a sport studio, a quiz show, a talent show, a science fiction environment and an architectural scene. 30 ready to use templates show the possibilities of the studios.
Learn more | Watch video | Buy