Dani | a month ago | 7 comments | 6 likes | 240 views
michiel, vincent, Ulli and 3 others like this!
When the active property is a colour (like for example the COLOUR prop of the text layer) and you press <F3>, the standard Windows colour dialog is displayed.

But when the mouse cursor is outside the tool window, it works as a colour picker: the colour is taken from the mouse position.
Colour change now very easy...you can change your desired colours from bixpack and your templates. Just select the layer of the colour property and move your your mouse to a colour on a picture or any where then simply hit F3 from your keyboard BT automatically takes that colour..
i used this amazing option in my Bixpack 36 Breaking News pack...
what do you think my friends? isn't it amazing?

Thank you
Dani.
www.outerspace-software.com...

Dani, a month ago
F3 link
www.outerspace-software.com...

Dani, a month ago
Great Dani, thnx
Filip, a month ago
Color picker is very useful.

vincent, a month ago
Belle trouvaille qui est très utile.
Ca correspond en quelque sorte à la pipette de photoshop
Merci Dani

PAT67, a month ago
The color picker is very helpful.

Ulli, a month ago
Comment to this article
More by Dani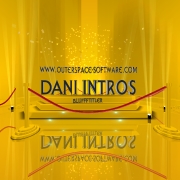 About Dani
Daniel lives in Hyderabad city in India, He loves to work with Blufftitler , For to him Every day begins with Blufftitler , He called himself a mad lover of Blufftitler.
Thank you for watching my shows and your great support.
Lots of Love from
Dani,
Hyderabad,
India.

Contact Dani by using the comment form on this page or at sriblessydaniel@gmail.com, facebook.com/dani.daniel.94064 or youtube.com/user/sriblessydaniel