steveg | 2 weeks ago | 7 comments | 186 views
I have textures for Saturn and for its rings. Is there any way in BT to add a ring around a planet?

Here's a quick test.

For Saturn I used a picture layer using the SPHERE style (1st dropdown below the textbox).

And for its rings I used another picture layer using the PLANE style.

Play around with the POSITION, ROTATION and SIZE properties to get everything right.

Here are the textures I used:
solarsystemscope.com...
tylermw.com...

For the rings I used the "Saturn ring texture with transparency" PNG from the 2nd link.

Set the SHADOW INTENSITY prop of the light layer to 1.

To keep the image clean, I've turned off the shadows for the texts in the LAYER > ACTIVE LAYER PROPERTIES dialog.

Set the FX LIGHTING FACTOR for the planet to 1 and for the rings to 0.

And yes, I've used a texture of Jupiter to add some confusion 😉

michiel, 2 weeks ago
yes, a very beautiful Juvturn 😋
Franco Aversa, 2 weeks ago
And here's a collage of our Earth, our moon, Jupiter and the rings of Saturn.

michiel, 2 weeks ago
Ahh, perfect! Thank you Michiel!

I was trying to use the 8k_saturn_ring_alpha.png texture and couldn't work out how to make it circular. The one you recommended gave a much better result.

I like the collage.

Thanks again.
steveg, 2 weeks ago
BluffTitler always astounds me with what it can do!!
steveg, 2 weeks ago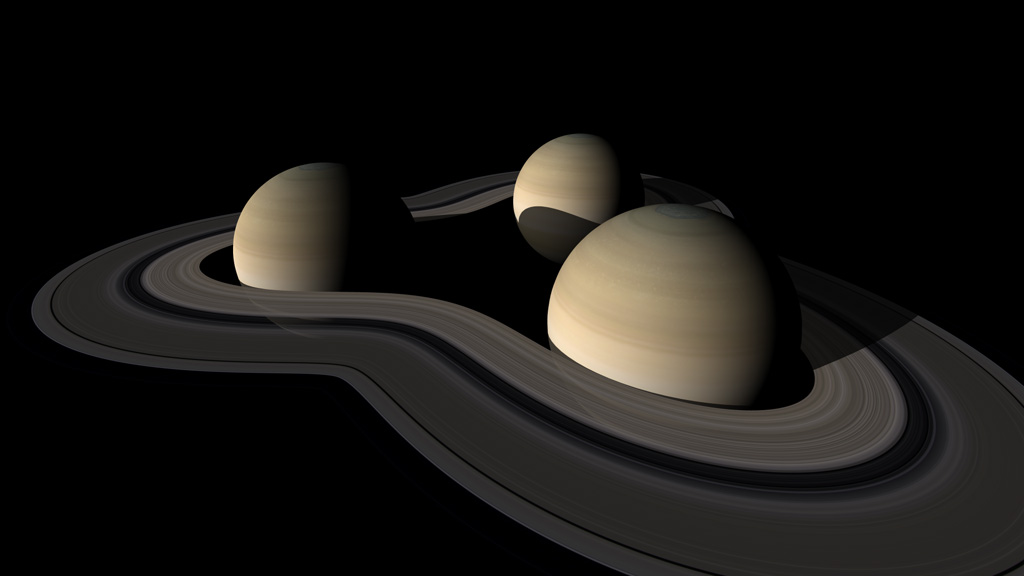 When you want to use that texture, use a sketch layer with Sketches\Sketch_Circle.eps, the FLAT style (1st dropdown) and a huge PEN SIZE prop value.

The sketch layer is a more difficult solution, but allows you to use other shapes instead of a circle. Use Bixelangelo to design your shapes: outerspace-software.com...

Here you can see a planetary trio with matching rings. A pretty unique configuration in the universe!

All textures are from this page:

michiel, 2 weeks ago
Ahh, got it. I'll give the sketch layer a try. I have Bixelangelo.

I've downloaded all of those textures. Thanks.

I love the image. Must be from the wacky part of the Universe. :-)
steveg, 2 weeks ago
Comment to this article
More by steveg
About steveg
Software developer and 2D animator.