Dani | 6 years ago | 5 comments | 7 likes | 2,229 views
BillyJack, Pixelpanther, sinus300 and 4 others like this!
Created with blufftitler version 11.
Makes me want to party!!!

BillyJack, 6 years ago
If Shakira's gonna be there, I would like an invite too LOL ;)

Nice work Dani :)
Pixelpanther, 6 years ago
Nice show!

Did you use "Mrs. Wiggle.fx" for the spectrum analyser?

Looks awesome.
John (ProComGer), 6 years ago
Thank you BillyJack, pixelpanther and John.
John :- Fake Volume Equalizer Effect used
www.outerspace-software.com...

Dani, 6 years ago
Comment to this article
More by Dani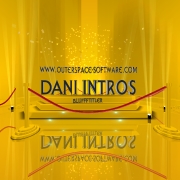 About Dani
Daniel lives in Hyderabad city in India, He loves to work with Blufftitler , For to him Every day begins with Blufftitler , He called himself a mad lover of Blufftitler.
Thank you for watching my shows and your great support.
Lots of Love from
Dani,
Hyderabad,
India.

Contact Dani by using the comment form on this page or at sriblessydaniel@gmail.com, facebook.com/dani.daniel.94064 or youtube.com/user/sriblessydaniel