IntroChamp | 6 years ago | 6 comments | 8 likes | 1,843 views
michiel, LostBoyz, liuyongcai and 5 others like this!
I'm very excited about the new Bluff upgrade! This is my first attempt at using some of the new features. I was a kid in a candy store!

LONG LIVE BLUFF!!!
Fantastic!!! show Joel, Very effective. You are candy store owner!!! lol.

Dani, 6 years ago
Lol!!! Dani, thank you! I know that you feel the same way that I do. I look forward to seeing how you use the great new options!

IntroChamp, 6 years ago
...I don't even know how to use the older options...nice!
andrea31419, 6 years ago
Andrea, you'll be fine. Just have fun and play... it will come together. Thanks :)

IntroChamp, 6 years ago
Joel's right Andrea, you'll be just fine. My portfolio is simply loaded with "Happy Accidents". Don't be afraid to play, that's in large part what makes BluffTitler so amazing!

BTW Nice JUST OUT THE GATE video Joel!

BillyJack, 6 years ago
Comment to this article
More by IntroChamp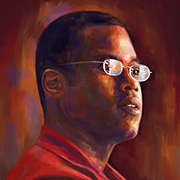 About IntroChamp
Joel Cooper is the founder and CEO of introChamp Inc. Many know him as the "Intro Champ".

His video template website makes it TOTALLY EASY for you to create AFFORDABLE, visually dynamic VIDEO INTROS in Minutes.

Contact IntroChamp by using the comment form on this page or at templates.introchamp.com