IntroChamp | 6 years ago | 3 comments | 6 likes | 1,636 views
Dani, komies, liuyongcai and 3 others like this!
The "icon" series continues...

Had fun modeling the controller, but the most fun is the moment that I import the model into Bluff!

Thank you Michiel for your awesome software!

LONG LIVE BLUFF!!!

I like the way you design shows,
1. simple but powerful.
2. Take care of every single element.
3.Timing at best.
4. Finally all rounder in B.T, GOD BLESS YOUR WORK.

Dani, 6 years ago
Efficient, great show!!!

vincent, 6 years ago
Dani, thank you very much for using your valuable time to encourage me. You are awesome! God Bless you!

Vincent, it's always a privilege to hear from you, thanks you!

IntroChamp, 6 years ago
Comment to this article
More by IntroChamp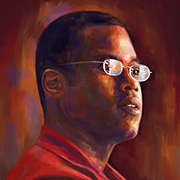 About IntroChamp
Joel Cooper is the founder and CEO of introChamp Inc. Many know him as the "Intro Champ".

His video template website makes it TOTALLY EASY for you to create AFFORDABLE, visually dynamic VIDEO INTROS in Minutes.

Contact IntroChamp by using the comment form on this page or at templates.introchamp.com