IntroChamp | 5 years ago | 8 comments | 9 likes | 1,654 views
michiel, vincent, ID Production and 6 others like this!
LONG LIVE BLUFF!!!
Bluff VIVA !!!

I used the displacement effect generously to add interest to the earth surface. Note how the microphone mesh shows through the earth surface. This is created by adjusting the "Clip position" of the displacement effect.

He utilizado el efecto de desplazamiento generosamente para añadir interés a la superficie de la tierra. Nótese cómo la malla micrófono muestra a través de la superficie de la tierra. Este es creada por el aumento de la "posición del clip" del efecto de desplazamiento.

This VIDEO INTRO features the

"PLANET AUDIO"
Series: templates.introchamp.com...

Esta INTRO VIDEO cuenta con el
Serie "
"PLANET AUDIO"
great concept Joel!

And thanks for the inside (phun intended)

I noticed that displacement works best with a flat picture / eps layer.

komies, 5 years ago
Gran trabajo IntroChamp .
muy agradecido por decir en la forma en la que lo a realizado .

B.Projects, 5 years ago
Yes, komies. I started out using a normal map, but it is more subtle than displacement... and I needed an exaggerated effect.

B.Projects, gracias por tu comentario. Me gustan sus videos también!

IntroChamp, 5 years ago
Perfect show!

vincent, 5 years ago
Joel ,i love your shows ....full of creativity and hard work.

Dani, 5 years ago
Vincent, that's high praise coming from such a talented artist!

Dani, I am a big fan of your talent too!

IntroChamp, 5 years ago
un trabajo incomiable, te agradezco el darnos las pistas oportunas para su realización, gracias

persiana, 5 years ago
Comment to this article
More by IntroChamp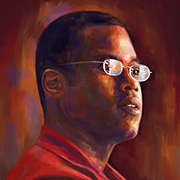 About IntroChamp
Joel Cooper is the founder and CEO of introChamp Inc. Many know him as the "Intro Champ".

His video template website makes it TOTALLY EASY for you to create AFFORDABLE, visually dynamic VIDEO INTROS in Minutes.

Contact IntroChamp by using the comment form on this page or at templates.introchamp.com