IntroChamp | 4 years ago | 7 comments | 8 likes | 1,520 views
B.Projects, persiana, liuyongcai and 5 others like this!
Long Live Bluff
¡Viva Bluff
Ouch! That's a punchy message. Very pro work, i like.

vincent, 4 years ago
formidable espectáculo

persiana, 4 years ago
IntroChamp, very cool! Beautiful!
liuyongcai, 4 years ago
Thank you Vincent, Persiana and Liuyongcai! It's nice to have friends that are as passionate about Blufftitler as I am!

IntroChamp, 4 years ago
Buen control sobre los modelos , usted es todo un maestro Joel .

B.Projects, 4 years ago
Powerful stuff! Nice
Vanlen, 4 years ago
Comment to this article
More by IntroChamp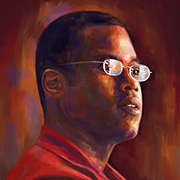 About IntroChamp
Joel Cooper is the founder and CEO of introChamp Inc. Many know him as the "Intro Champ".

His video template website makes it TOTALLY EASY for you to create AFFORDABLE, visually dynamic VIDEO INTROS in Minutes.

Contact IntroChamp by using the comment form on this page or at templates.introchamp.com