IntroChamp | 5 years ago | 6 comments | 7 likes | 1,246 views
Ulli, persiana, komies and 4 others like this!
This is a re-purpose of my previous video intro. This one is for the gamers!

Esta es una re-propósito de mi anterior video intro. Esta es para los jugadores!


Long Live Bluff
¡Viva Bluff
Muy bueno Joel , Bien jugado ☺

B.Projects, 5 years ago
Very efficient...100% Joël!

vincent, 5 years ago
Thank you B.P and Vince! I hope you guys are having a creative day!

IntroChamp, 5 years ago
muy bueno, te quedo de lujo

persiana, 5 years ago
Only Joel can do this type of intros, i like the way it goes down, cracks, one man show, well done Joel.

Dani, 5 years ago
Comment to this article
More by IntroChamp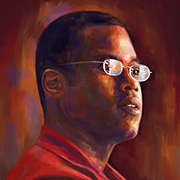 About IntroChamp
Joel Cooper is the founder and CEO of introChamp Inc. Many know him as the "Intro Champ".

His video template website makes it TOTALLY EASY for you to create AFFORDABLE, visually dynamic VIDEO INTROS in Minutes.

Contact IntroChamp by using the comment form on this page or at templates.introchamp.com