IntroChamp | 4 years ago | 3 comments | 8 likes | 1,708 views
komies, Tintin, michiel and 5 others like this!
CAMERA MOVEMENT
We're all familiar with it, but be careful not to take it for granted. It's one of the most important considerations you'll face as an animator.

Michiel has given us many exciting interpolation types to choose from when considering how you want your camera to behave as it leaves one keyframe and enters another. I encourage you to try them all out, while changing the distance between and number of keyframes.


THE NEED FOR SPEED
Are you creating an action packed thrill ride, a soft and delicate decent through the clouds or maybe something in between? The camera is your key to setting the pace for your viewers. Speed is largely dependent upon how close you place your keyframes together along the timeline.


ARE YOU READY FOR YOUR CLOSEUP!
Another important aspect of the camera is DISTANCE... It can be affected by Position, Arm length or Field of view. Practice with them all!

Decide whether you want your viewer up close and personal to the elements in your design or if you want to create a more far away experience for your audience. Indeed, YOU MAY DECIDE TO CREATE BOTH!...

...One technique is to get the viewer nice and close to your design elements (actors) to create intimacy, then pull the camera back to expose those elements in the context their surroundings to tell a more complete story.

That is exactly what I've done in the animation above. The camera starts with a tight shot of the butterfly. The idea was to exaggerate the closeness to the butterfly to get the viewer's attention initially, then to pull the camera back to deliver the complete message.


STAY FOCUSED
Too much camera movement without purpose can confuse your audience, while not enough movement could potentially bore the viewer. Strive to find the sweet spot that balances excitement with purpose.


JOIN THE MOVEMENT
If this all seems rather obvious, think of this post as a reminder. Camera movement is largely an artistic choice, so consider my advice and examples as mere suggestions. You'll have your own ideas about creating a visual impact with camera movement.

Play around with it the camera... I would love to hear your comments and see your posted results!


Long Live Bluff!
¡Viva Bluff!
Beautiful show with Useful info , valuable too, Joel, background flowers pngs or 3d models??

Dani, 4 years ago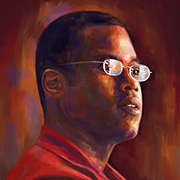 About IntroChamp
Joel Cooper is the founder and CEO of introChamp Inc. Many know him as the "Intro Champ".

His video template website makes it TOTALLY EASY for you to create AFFORDABLE, visually dynamic VIDEO INTROS in Minutes.

Contact IntroChamp by using the comment form on this page or at templates.introchamp.com