Dani | 3 years ago | 7 comments | 10 likes | 1,094 views
SMSgtRod, vincent, michiel and 7 others like this!
Old show made some changes...on the series ...
Hi Dany
Should you be working on a movie Bixpack ? lol
Jeep35, 3 years ago
Hell Jeep35 how are you? no no... i just got an idea of Movie theme... that's it...
thank you.

Dani, 3 years ago
Great, I love your colors in animations !!
Very professional lens flare !
Franco Aversa, 3 years ago
I've found it, Dani

(movie)Spot the differences :)
It was then also already a wonderful show.

And I still agree with Vincent.
www.outerspace-software.com...

komies, 3 years ago
muy bien Dani

persiana, 3 years ago
Dani, you are the Intro-Master!
Great show!

Ulli, 3 years ago
Comment to this article
More by Dani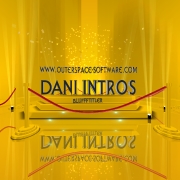 About Dani
Daniel lives in Hyderabad city in India, He loves to work with Blufftitler , For to him Every day begins with Blufftitler , He called himself a mad lover of Blufftitler.
Thank you for watching my shows and your great support.
Lots of Love from
Dani,
Hyderabad,
India.

Contact Dani by using the comment form on this page or at sriblessydaniel@gmail.com, facebook.com/dani.daniel.94064 or youtube.com/user/sriblessydaniel