Carlos Marques | 9 years ago | 4 comments | 6 likes | 3,006 views
sebouze, Tintin, mufasaxx and 3 others like this!
BT 8.3.1
:)
Carlos, again nice work

I know you do a lot of work with EPS, is this another EPS you created? If so how are you getting your edges so smooth with no jaggies?

I am using a program called "BMP 2 EPS" to create the EPS files.

My show settings are "High Quality"
My movie settings are set to "Software AA Super High Quality"

My original BMP files look good but they are not as smooth in BT
rudemartini, 9 years ago
rudemartini, this has nothing to do with antialiasing.

The problem is that your EPS is not detailed enough. I think the easiest way to improve this is to increase the resolution of the logo bitmap before tracing it.

michiel, 9 years ago
Ahh!Thanks

Can you give an ideal resolution size? As you can see the edges are not smooth. The original art work in the tribal design was jaggie. What would you recommend, what is the best format to create jaggie free art work from scratch?

I am using Photoshop CS5.
rudemartini, 9 years ago
Comment to this article
More by Carlos Marques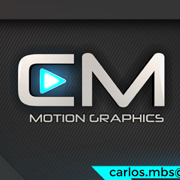 About Carlos Marques
▶e-mail: carlos.mbs@hotmail.com

Contact Carlos Marques by using the comment form on this page or at facebook.com/carlosmarques3d?ref=hl