Dani | 6 years ago | 8 comments | 6 likes | 1,885 views
persiana, LostBoyz, Bald Runner and 3 others like this!
(:
I really like the way the speakers move. Great effect Dani.
بہت اچھے

I hope that is Urdu for very good!

Bald Runner, 6 years ago
Thank you Bald Runner, i am from Hyderabad, we speak Urdu,but i can't read, my language is Telugu.

Dani, 6 years ago
Nice show!

At the moment we are working on a system that can automatically sync the movement of the speakers with the music. It can also make the texts and other layer types jump with the music - fully automatically. Goal is to make shows like this even greater!

michiel, 6 years ago
Thank you Michiel, that's great news for us. Day and night you are thinking about BT's development, I appreciate your passion and hard work .

Dani, 6 years ago
Dani, here's a work in progress demo of the system we are building:
www.outerspace-software.com...

michiel, 6 years ago
Good!
liuyongcai, 6 years ago
extraordinario Dani

persiana, 6 years ago
Comment to this article
More by Dani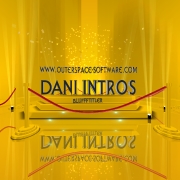 About Dani
Daniel lives in Hyderabad city in India, He loves to work with Blufftitler , For to him Every day begins with Blufftitler , He called himself a mad lover of Blufftitler.
Thank you for watching my shows and your great support.
Lots of Love from
Dani,
Hyderabad,
India.

Contact Dani by using the comment form on this page or at sriblessydaniel@gmail.com, facebook.com/dani.daniel.94064 or youtube.com/user/sriblessydaniel