Dani | 7 years ago | 3 comments | 6 likes | 2,009 views
LostBoyz, sinus300, patrickv and 3 others like this!
Hi michiel, i have small question , who the team behind, can we know them by name, why because i want to appreciate each and every person, total how many members are there,
I love BLUFFTITLER each time i am working on it, i feel very user friendly, Basically
I don't know have any 3d knowledge and NLE too, Bt made taught me what is 3D. With great joy , i say that "MY BLUFFTITER" simply super, super..... GOD BLESS YOU ALL who is part of this amazing software, Sorry for my English.

Thank you Michiel, it's pleasure here that from you,
Patrickv and ID Production (:

Dani, 7 years ago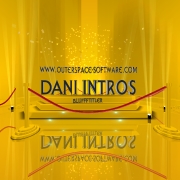 About Dani
Daniel lives in Hyderabad city in India, He loves to work with Blufftitler , For to him Every day begins with Blufftitler , He called himself a mad lover of Blufftitler.
Thank you for watching my shows and your great support.
Lots of Love from
Dani,
Hyderabad,
India.

Contact Dani by using the comment form on this page or at sriblessydaniel@gmail.com, facebook.com/dani.daniel.94064 or youtube.com/user/sriblessydaniel