Dani | 6 years ago | 3 comments | 6 likes | 2,115 views
komies, michiel, kayserhans and 3 others like this!
News intros season......back to work.

Professional job Dani! The Red is very effective.

IntroChamp, 6 years ago
great news intro (leader) dani,

2 very small points: And it will be perfect :)

lower the image of rachel to the bottom of the screen from the start so to maintain the illussion that she stands in front of it all.

And there is still some white in rachels hair visible from cutting her out, it stands out the most with the red background at 13.5 seconds till the end.

Great Job,

komies, 6 years ago
Thank you Joel,
Great observation Komies, yes i agree with you, pic downloaded from web,i used as it is .it's demo pic only. still student of blufftitler,Thank for the feedback.

Dani, 6 years ago
Comment to this article
More by Dani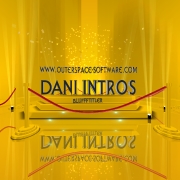 About Dani
Daniel lives in Hyderabad city in India, He loves to work with Blufftitler , For to him Every day begins with Blufftitler , He called himself a mad lover of Blufftitler.
Thank you for watching my shows and your great support.
Lots of Love from
Dani,
Hyderabad,
India.

Contact Dani by using the comment form on this page or at sriblessydaniel@gmail.com, facebook.com/dani.daniel.94064 or youtube.com/user/sriblessydaniel