Dani | 5 years ago | 8 comments | 5 likes | 2,377 views
persiana, liuyongcai, komies and 2 others like this!
May The Stars Shine Upon Your Life,
May Gorgeous Flowers Blossom Your Life
May The New Year Rock Your Life
And May God Bless And Protect You
All Through The Year.

Wish You Happy New Year!

Thank you very much for your love and encouragement throughout this year,

With lots of Love from
Dani
Lover of BT.
India.
Have great fun. download this show,

Dani, 5 years ago
Nice collection of particles,

Thanks for the share

komies, 5 years ago
Happy New Year 2016
liuyongcai, 5 years ago
Bonito espectáculo Dani Feliz año nuevo para ti y los tuyos

persiana, 5 years ago
Happy 2016

vincent, 5 years ago
Thank you Dani for publishing so many inspiring shows in this community. It's always a delight to see your new work!

Have a great 2016!

michiel, 5 years ago
Thank you all happy 2016.

Dani, 5 years ago
Comment to this article
More by Dani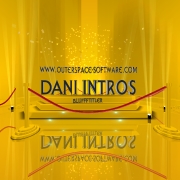 About Dani
Daniel lives in Hyderabad city in India, He loves to work with Blufftitler , For to him Every day begins with Blufftitler , He called himself a mad lover of Blufftitler.
Thank you for watching my shows and your great support.
Lots of Love from
Dani,
Hyderabad,
India.

Contact Dani by using the comment form on this page or at sriblessydaniel@gmail.com, facebook.com/dani.daniel.94064 or youtube.com/user/sriblessydaniel