Dani | 6 years ago | 5 comments | 7 likes | 1,880 views
B.Projects, Robert Urbina, komies and 4 others like this!
BT vs AE ........inspired show on YouTube.

Beautiful effect!

I'm puzzled by the rose leaves. Are they rendered by a single particle layer? Did you switch the TARGET LAYER property from the heart to the floor? Or are you using another trick?

I also wonder how you managed to start with so many particles in place. What trick did you use to achieve that?

michiel, 6 years ago
very nice, especially ... perfect

B.Projects, 6 years ago
Beautiful

Very proffesional look, great work. Bravo

komies, 6 years ago
Es un demostración de partículas excelente, muy bueno

persiana, 6 years ago
Thank you all you wonderful people.
Michiel: Heart is a video layer and ChromaKey.cfx trick.

Dani, 6 years ago
Comment to this article
More by Dani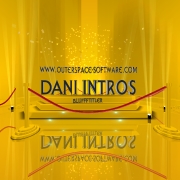 About Dani
Daniel lives in Hyderabad city in India, He loves to work with Blufftitler , For to him Every day begins with Blufftitler , He called himself a mad lover of Blufftitler.
Thank you for watching my shows and your great support.
Lots of Love from
Dani,
Hyderabad,
India.

Contact Dani by using the comment form on this page or at sriblessydaniel@gmail.com, facebook.com/dani.daniel.94064 or youtube.com/user/sriblessydaniel